CONGRAGULATIONS to Charissa Hakes
the lucky winner of a super cute Octopus By Pineapple's Playhouse !
Lets Meet Pineapple's Playhouse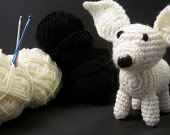 Name of Shop – Pineapple's Playhouse, I have a cat that looks like she should be called Oreo, so naturally she is named Pineapple. She is one of the most affectionate, dog-like cats ever, so I figured she needed something named after her. She's my banner picture
Category of items you sell? - Crochet, Crafty name signs
1. How long have you had your shop?
My shop has been opened since January of this year.
2. What inspired you to start your shop?
I discovered etsy about a year ago and loved looking at all the handmade crafts, there is really so much natural talent all across the globe! I started custom ordering some mustachio dinosaurs (albinodinodesigns) for friends and realized that I could make people smile too!
3. Who or what inspires you to create?
I've always been crafty, but I really had a great inspiration when I started dating my boyfriend. We spent out first summer in two different towns and I loved making cards to send to him! Now that we live together I like to craft for the challenge, to see the next level of creativity I could reach. I taught myself to crochet in the winter of 2011 and so far I've master the octopus. . . I don't know what it is, but I am compelled to create octopuses! Soon I'm going to try and make a funny lion or a Detroit Tiger
4. What has been your biggest accomplishment as a shop owner / artist?
My biggest accomplishment as a shop owner was starting my shop! I never thought I'd have a good outlet for my crafts. And friends can really only take so many crocheted octopuses
As an artist my biggest accomplishment was making a poster-sized, ocean themed, birthday card! I used blue cellophane as a layer, drew things I never thought I could, and put it all together! I was so proud when I finished it! (See picture)
5. What has been the hardest part about starting a business?
The hardest part for me is trying to balance work and craft-time. I have a temporary full-time job while I'm trying to look for a permanent job that uses my degree. Occasionally at the end of the day I just don't have the energy to craft. Sometimes I need to apply for job but use crafting to procrastinate and other times I'll want to look for jobs but have an order that I need to get done. It can be exhausting.
6. What would be your biggest tip to a brand new shop owner / artist on etsy?
My best tip for a new shop owner is to make sure you have plenty of items! You'll reach more people and more people will see your work when you display lots of items! You also want to make sure you have back-up stock! I basically never have back-ups, so when someone orders something I start to make it. I secretly have all made to order items :] Also, don't ever let your art become a chore! As soon as you start to dread making something it will never look as good as it could. Take a break and clear your mind, crafting is fun!
7. Where can we find Your shop?
You can find my shop on etsy:http://www.etsy.com/shop/kymeki?ref=si_shop
Or you can find my shop on facebook: www.facebook.com/PineapplesPlayhouse
My Shop Review
I was fortunate enough to review a super cute AND adorable
Detroit Red Wings Crocheted Octopus
. My Husband is a HUGE sports fan and loves the Red Wings so I was so excited when
Pineapple's Playhouse
let me review this item for our new arrival due in August ! Now I just love handmade items and fell in love with it when i got it. Kyle the owner of
Pineapple's Playhouse
was exceptionally kind and it was very easy to place my order. It arrived very promptly and in the cutest handmade packaging which i adore ! 
Pineapple's Playhouse has a variety of items and can custom make items too. Her most popular items are her octopus. You must keep checking her shop as she posts many new creations to her shop ! She even had the neatest sale I have ever seen on Etsy. She was discounting the price of the Red Wings Octopus when the Wings were in the playoffs, each game they won she would discount the item more!! Check out her shop and see if she has a handmade animal in your favorite Team ! Even if you dont have kids but your pets are your kids, Kyle also makes really cute Jungle Cat Toys, and could probably make something your your cute lil pooch too ! Again she does take custom orders, the sky is the limit see what she can make for you !!
Giveaway-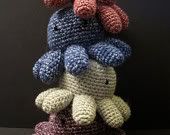 One reader will win one of these really cute octopus from Pineapple's Playhouse for your self or your little one, or give it as a baby shower gift, you may choose from all four colors !!
Here's how to win:
1. Like Pineapple's Playhouse on Facebook.
2. Comment below with your name and email and which entries you are submitting.
Additional Entries:
-Comment on Pineapple's Playhouse Facebook page with your favorite item in her shop on Etsy.
-Like ReVamped Designs on Facebook
-Tell your Facebook Friends about this giveaway by posting "I want to win a speckle Crocheted Octopus from @Pineapple's Playhouse. Go like her page and enter to win too! Visit www.revampedesigns.webs.com for more ways to enter." on your status. Please make sure to tag Pineapple's Playhouse in the post. (2 entries)
Giveaway will end Monday, May 7th at midnight MST. Winner will be chosen by Random. I was given above product to review. No other compensation was received. All opinions are my own. Winner will be chosen by random.org.
Categories: None