Congragulations to Charissa Hakes with a whopping 4 out of 4 entries !!!
See it pays off to do the additional entries !!!!!
Lets Meet BlondiesCreations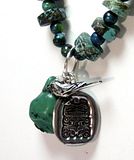 "I come from a long line of jewelry collectors We believe you can never have too much. I studied Anthropology and Geology in college and have been a rock hound ever since. I even get my husband out into the hot sun of Oregon's eastern high desert to dig for materials to use in my jewelry making ( I think he's a keeper). I like tribal jewelery and clothes that inspire my work . I find inspiration all around me in every day life as well as the books that let me study the past. I'd like you to spend a little time with me and my creations and hopefully you will find one you love enough to take home."
-Diane
BlondiesCreations
My Shop Review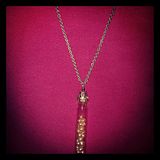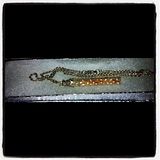 I am so Glad BlondiesCreations wanted to be a part of my adventures on Etsy ! I got to review the most amazing Birthstone Necklace, before she even introduced it into her shop. How exciting that I get to help her debut her new line of necklaces !!! 
This Birthstone necklace measures about 14" long, is made of sliver, but Diane can make the necklaces with most any kind of chain you would like ( gold, silver etc.) She can do any Birthstone month, my Birthday was just this weekend so I have my necklace in Pearl since its my Birthstone. She can even do a mothers Birthstone necklace that would include all your children's Birthstones, how fun !! She did a GREAT job on this necklace, it has one large Pink pearl at the top of the tube that houses the rest of the smaller pink pearls. Diane was so fun to work with, my order was very easy to place and arrived very promptly, in a very cute little silver jewelry box, this would make a great Birthday gift, or a mothers day gift if you give the mothers birthstones. 
BlondiesCreations has so many really nice pieces of jewelry in her shop. She can custom make items as well. You must keep checking her shop she posts many new things regularly. Stop by and check out her new creations often ! She has a large variety of necklaces and Bracelets in her cute little shop !!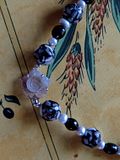 Giveaway-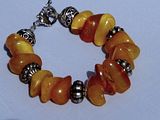 One Lucky reader will win a $30 Shop Credit to BlondiesCreations Etsy Shop. This credit will cover a whole lot in her shop, so shop for you or a gift for someone !!!
Heres how to enter to win ( 1& 2 counts as one entry must do both):
1. Favorite an item in BlondiesCreations Etsy Shop
2. Leave a Comment below saying what your favorite item is.
Additional Entries:
-Like ReVamped Designs on https://www.facebook.com/ReVampedDesigns.byAkeara" target="_blank" rel="nofollow">https://www.facebook.com/ReVampedDesigns.byAkeara
-Tell your Facebook Friends about this giveaway by posting "I want to win a $30 shop credit from BlondiesCreations. Here's how you can enter to win too!!! Visit www.revampedesigns.webs.com  to enter." on your status. You must Tag Revamped Designs in your post (counts as 2 entries)
***if you have done these additional entries you must say which you have completed in your comment below to get your additional entries***
Giveaway will end Sunday, June 10th at midnight MST and announced Monday June 11th MST. Winner will be chosen by Random. I was given above product to review. No other compensation was received. All opinions are my own. Winner will be chosen by random.org.
Categories: None