Congragulations Tara Nelson your the Lucky Winner of our Red Windmill Designs Giveaway !!!!!!!!!!!!!
Lets Meet Red WIndmill Designs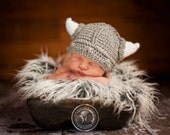 Name of Shop ??? Red Windmill Designs
Category of items you sell? -Mostly Baby items and Photography props, but also a nice range of household items as well.
1. How long have you had your shop? A little over two years
2. What inspired you to start your shop? My husband was out of work and I thought maybe I could make a little money here and there and it's turned into a full time job!
3. Who or what inspires you to create?  A little bit of everything.  Great yarn mostly.  I'm an addict!  Also, for my household items, what do I wish I had?
4. What has been your biggest accomplishment as a shop owner / artist? Being featured in two online publications this last holiday season.
5. What has been the hardest part about starting a business? I wish I had more time to create!  I love that I have so many orders, but always look forward to when I'm caught up and can think of something wonderful and new!
6. What would be your biggest tip to a brand new shop owner / artist on etsy? Pictures, pictures pictures!  Great pictures are what sells your product!  Also remember you're not the customer, you have to always be thinking about what someone else might want.
7. Where can we find Your shop?  RedWindmillDesigns.etsy.com and now my own site at RedWindmillDesigns.bigcartel.com and also on facebook http://www.facebook.com/pages/Red-Windmill-Designs/194646963909051
My Shop Review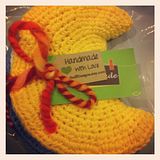 I had a lot of fun working on this giveaway with Red Windmill Designs, Rachel the owner is very talented and has the most amazing Etsy shop. She has a Huge variety of hand crochet items, baby items, accessories, slippers, face scrubbies, and i was able to review her newest item in her shop her Happy Hyperbolic Dishcloths.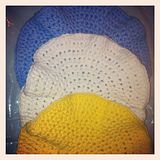 These dishcloths are amazing !! I have never seen or used a round dishcloth before. I never really thought about the difference the shape might make. These dish cloths are the perfect size and shape. The round design really cleans and fits into bowls and cups so much better than a traditional square shape dish cloth. They have a very long lasting durability, i have been using them for about two weeks and LOVE them !!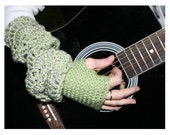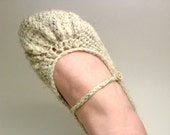 Giveaway-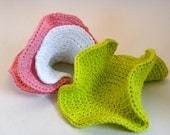 One Lucky Reader will win a set of these Fabulous hand made Dish Cloths from Red Windmill Designs.
Here's how to win: ( 1& 2 counts as one entry must do both):
1. Like Red Windmill Designs on Facebook.
2. Comment Below with your Name and Email, as well as ALL the entries you are submitting and have completed. 
Additional Entries:
-Comment on Red Windmill Designs facebook page with your favorite item out of her shop.
-Like ReVamped Designs on Facebook.
-Tell your Facebook Friends about this giveaway by posting "I want to win Happy Hyperbolic Dishcloths from @Red Windmill Designs. Here's how you can enter to win too!!! Visit www.revampedesigns.webs.com to enter. @ReVamped Designs" on your status. ---You must Tag Revamped Designs and Red Windmill Designs in your post (counts as 2 entries)
***if you have done these additional entries you must say which you have completed in your comment below to get your additional entries***
Giveaway will end Sunday, June 17th at midnight MST and announced Monday  June 18th. Winner will be chosen by Random. I was given above product to review. No other compensation was received. All opinions are my own. 
Categories: None